We Are Your Local Roof Repair Company In Helena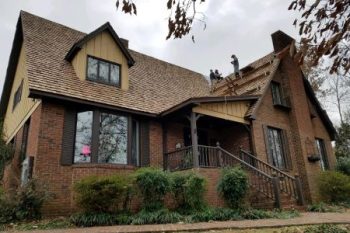 Roofing is one of the most important aspects of any home or commercial property. A quality roof not only provides protection from the elements but also adds to the aesthetic appeal of the building. An old or damaged roof is a liability and should be repaired as quickly as possible. When it comes time to repair or replace a roof, it is important to work with a reputable contractor who has experience in the roofing industry. At Elevated Roofing, our roofing specialists have over 35 years of combined experience providing the residents of Helena with dependable roofing projects. Whether you have a flat roof, metal roof, or shingle roof, we will get the job done.
We pride ourselves on our fair business practices and affordable prices. Our best marketing tool is our reputation which is why we strive to be the best roofing team in the Helena area, and we're confident that you'll be satisfied with our work. If you're looking for a professional roofing contractor, look no further than Elevated Roofing. Give us a call today and ask about our free roof inspections.
When You're Dealing With Roof Storm Damage, We're Here To Help
Storm damage doesn't have to bring your life to a halt. Elevated Roofing offers quick and professional storm damage restoration services to get your home back to normal, so don't hesitate to reach out to your local roofing contractor when you need us. We are storm damage assessment professionals and have passed rigorous Haag certification courses and mastered the industry's most effective damage inspection and assessment techniques. Designed by professional engineers, comprehensive Haag certification training has taught our inspectors how to safely inspect residential roof systems for:
Hail damage
Wind damage
Mechanical damage
Weathering
Elevated Roofing can diagnose hidden damage and plan an effective repair solution for all types of residential roof systems, including metal roofing. Whether it's your asphalt shingles or composite slate that is a victim of Mother Nature, our storm damage restoration services can get things back on track. Once we've inspected your roof and pinpointed areas of concern, your roofing contractor will create a repair plan. Our factory certifications with Atlas, CertainTeed, GAF, Tamko, and Owens Corning mean we have access to premium commercial and residential roofing materials. If you've got roof leaks, missing shingles, or other roof damage, don't hesitate to give us a call for commercial or residential roof repair.
For Professional Roof Repair Services, Give Us A Call
In addition to our high-quality storm damage inspection and restoration services, Elevated Roofing also offers expert insurance claims support. We've successfully partnered with many insurance companies over the years, and our team knows how to get your insurance claim approved and funded. From start to finish, we'll help you through the claims process and get you the money you need for a renovated roof or a roof replacement.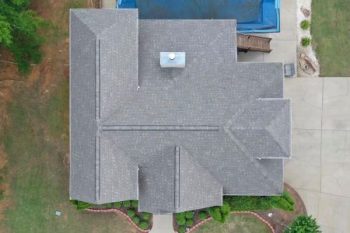 We work with many business owners in Helena to provide the commercial roofing repair they need. One method that we use to restore the performance of a commercial roof system is to apply a silicone or acrylic coating over the existing roof. Instead of a full roof replacement project, our roof coating service can be a quick and affordable solution. When applied by skilled contractors, silicone and acrylic roof coatings can:
Ensure waterproof protection. Elevated Roofing can apply a roof coating over every square inch of your commercial roof. By seamlessly sealing the areas around pipes, equipment and other rooftop features, we can protect your building from leaks and water damage.
Save money. Roof coatings are applied directly to your roof, which means the restoration project can be completed with less material, labor and time. And because old roofing materials don't have to be removed and discarded, you won't have to deal with costly landfill fees. That's a sustainable way to protect your bottom line and the environment!
Improve energy efficiency. Low-maintenance silicone and acrylic roof coatings reflect UV rays, which can help your building's cooling and heating system work more efficiently and lower your utility costs.
Protect productivity. One of the most convenient features of a roof coating application is that it doesn't have to impact business as usual. Roof coatings are quick and easy to apply, so while Elevated Roofing is getting the job done right on top of your building, the people and processes inside won't be disrupted.
Other roofing companies constantly try to sell you products and services that you don't need. But as an experienced roofing contractor in Helena, our team at Elevated Roofing not only works with you to find effective solutions to protect your property, but we also strive to build trust and lasting relationships with our clients. From our free roof inspections to our professional roofing crews, you can always rely on us for any roofing issues.
Common Roof Repair Questions
How do I know if my roof needs repair?
The signs that your roof needs repair include leaks, missing or damaged shingles, cracked or curling shingles, dark stains or streaks on the roof, and moss or algae growth. You may also notice that your energy bills are higher than usual or that your roof looks worn or aged.
How much does roof repair cost?
The cost of roof repair depends on the extent of the damage and the type of roof you have. It's best to get an Inspection from a reputable roofing contractor. we offer FREE Roof Inspection. call (205) 537-9754
Can I repair my roof myself?
While some minor roof repairs may be possible for homeowners to handle on their own, it's generally recommended that you hire a professional roofing contractor for any significant repairs or roof replacement. Roof repair can be dangerous, and improper repairs could lead to further damage and more expensive repairs in the long run.
How long does roof repair take?
The duration of roof repair depends on the extent of the damage and the size of the roof. Minor repairs can typically be completed in a few hours, while major repairs or roof replacement may take several days or even weeks.
How do I choose a roofing contractor?
When choosing a roofing contractor for your roof repair, look for a licensed and insured professional with experience in roof repair. Check their references and reviews, and ask for a written estimate and contract detailing the scope of the work, materials to be used, and payment terms.
The Search For Roof Repair Near Me Is Over
We pride ourselves on our high-quality workmanship and customer service. Our team offers a wide range of roofing services, from minor repairs to a new roof installation, and we're always available to answer your questions and address your concerns. Give Elevated Roofing a call or contact us online to learn more about our repair services. Our family-owned roofing company would love to provide a free roof inspection, so reach out and let us restore the beauty, functionality and safety of your home.